---
I wanted to make beef wellington for Christmas dinner, but due to the storm that rolled in and dumped a metric tonne of snow on us, we moved dinner to mid-January. We were at a local deli (before Christmas) and I was speaking to the store owner about dinner. She mentioned that the University would use a particular truffle mushroom spread as the duxelles layer. I gave it a try and it went over well. I did find it a bit oily so may just make it myself next time. The beef wellington turned out delicious!
A trick for those that don't defrost their puff pastry in time, is to wrap a block in papertowel and pop it into the microwave for 30 seconds on high. It's ready to roll out at that point. I used 1 pack / 2 blocks of puff pastry to cover the tenderloin, cutting away the bit of excess.
As tenderloin is expensive, we only picked up a 2lb piece, it fed 4 of us nicely with a few slices left. I used Tyler Florence's beef wellington recipe to guide me, using my own blend for the rub on the outside of the tenderloin and the spread for the duxelles. Instead of an instant-read thermometer, I used my trusty Ikea thermometer, setting it to 135F (medium-rare).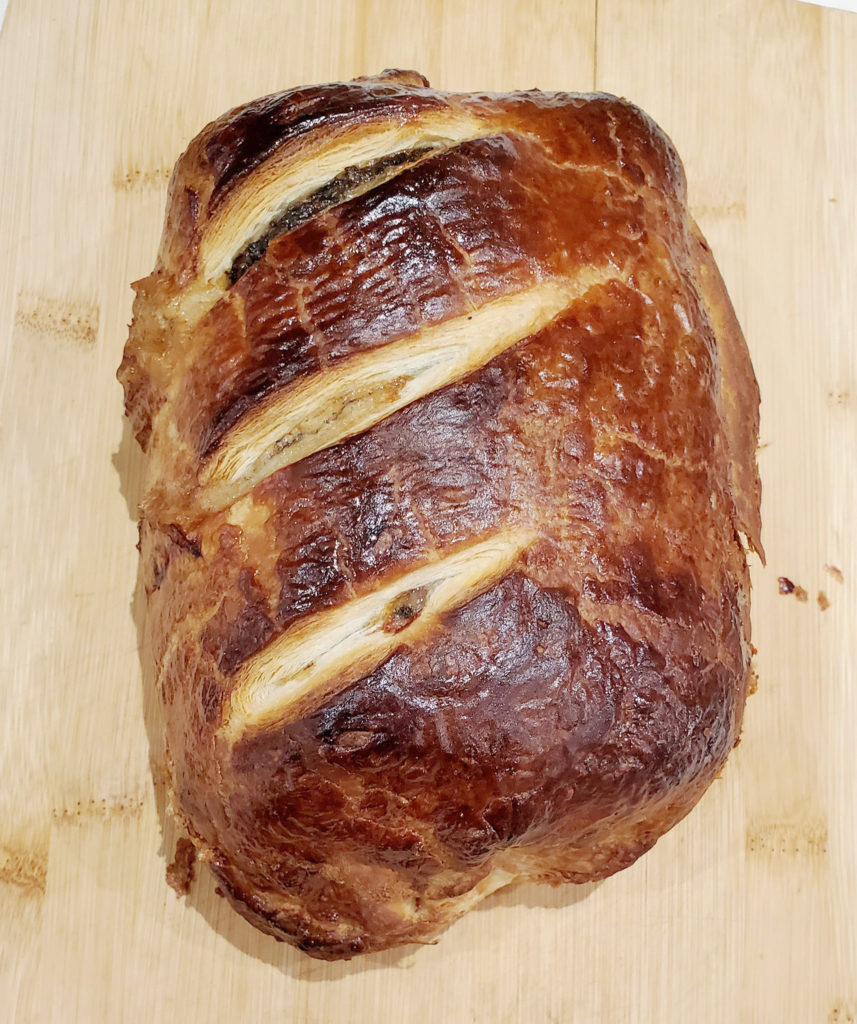 Print
Beef Wellington
Ingredients
1

pack

puff pastry

2

lbs

beef tenderloin

1

jar

mushroom spread

or homemade duxelles

1

egg

for egg wash

oil for searing the tenderloin
Rub for the Tenderloin
2

tablespoons

mix of fresh chopped oregano, thyme, and rosemary

1

tablespoon

minced garlic

1

teaspoon

Clubhouse Herb & Pepper Mix

1

teaspoon

dried oregano

1

teaspoon

Clubhouse Garlic & Onion all-purpose seasoning

1/2

teaspoon

salt

olive oil
Instructions
Make the rub for the tenderloin, adding just enough olive oil to a make it a paste.

Truss the tenderloin so that it's as round as possible. Smear the rub all over the tenderloin.

Drizzle a bit of oil in a pan and once hot, sear the loin all around, including the ends. Set aside to cool. Keep those pan drippings and set the pan aside for the green peppercorn sauce!

Once cooled down, remove the ties and smear all over with the duxelles. Roll tightly in saran wrap and set in fridge to chill.

Roll out the puff pastry in a large rectangle. Wrap the tenderloin, sealing with a bit of egg wash, making sure to seal the ends well.

Place on a foil lined cookie sheet, seam side down, brush with egg wash.

Set your thermometer for 135F and bake in a preheated oven at 425F for approximately 45 minutes to an hour.
I did make a green peppercorn sauce using peppercorns in brine, but it didn't really pack a punch. Made for a nice gravy mind you, just seemed overwhelmed by the beef wellington. I've made green peppercorn sauce before, with fresh green peppercorns, and it ended up being very robust – almost horseradish-like. The below recipe reflects a combined recipe.
Print
Green Peppercorn Sauce
Ingredients
2

small shallots

minced

1

tablespoon

garlic

minced

1/4

cup

fresh green peppercorns

crushed

1

cup

beef stock

1

cup

cream

1

tablespoon

chopped fresh thyme and oregano

1/2

teaspoon

Clubhouse Herb & Pepper mix

1/2

teaspoon

Clubhouse Garlic & Onion seasoning

S&P to taste
Instructions
Using the pan used for searing the beef tenderloin, drizzle a little bit of olive oil. Saute the shallots until soft.

Deglaze the pan with the stock.

Add the cream and spices, whisking occasionally while simmering for about 5 minutes until it begins to thicken.

Add the fresh herbs, simmer, whisking often, until thick.

Season with salt and pepper according to taste.
If you like this recipe, please share!