---
The Hubby loves banana bread, so when my sister gave me a bunch of extra bananas she had, I picked out some of the more ripe ones to make chocolate chip banana bread with.
Banana bread can be made so many ways, just add your favorite nuts, or cocoa powder, maybe butterscotch chips. Whatever favorite toppings you have!
Just some tips:
I go by the amount of mashed banana for the recipe, versus "X number," as bananas come in big or small. I like to mash the bananas ahead of time and pop into the fridge to sit for a little bit. Makes them mushier. Weird I know, but just one of those odd things that works.
The nasty-sounding milk mixture basically makes buttermilk. If you keep your fridge stocked with buttermilk, feel free to use a tablespoon of it instead. I mixed this ahead of time and set in the fridge, along with bananas. It curdles the milk, but don't throw it out! That's what you are looking for! Just stir it up a bit and then take the tablespoons worth out of it.
Also, although it's a gooey and thick batter, mix it by hand. You'll be able to incorporate all the ingredients better and if it looks really dry, you'll be able to feel how moist it quickly gets as you "squish" everything together.
This batter is sticky and lumpy, when you put it into the prepared bread pan, push the batter into the corners and flatten with your fingers. If you sprinkle nuts and/or chocolate chips on top, press them gently into the batter.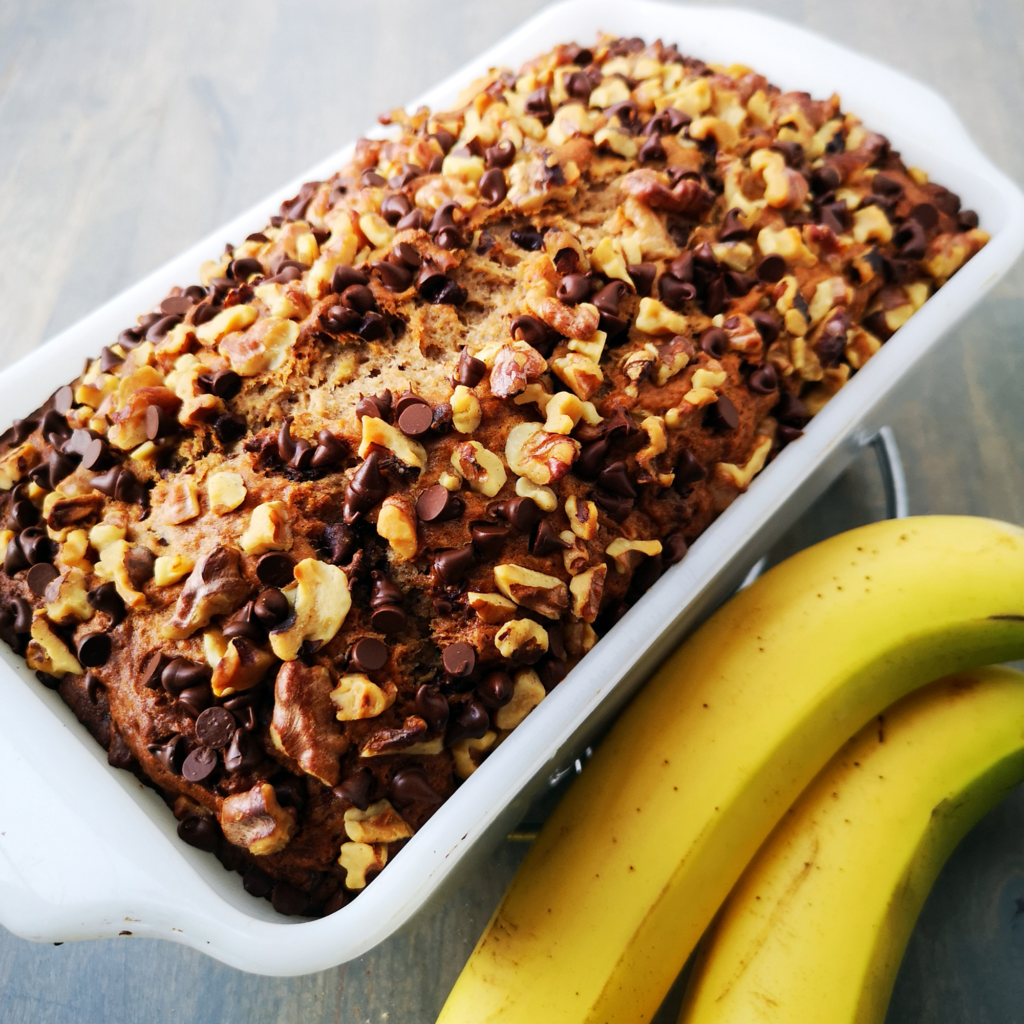 Print
Chocolate Chip and Walnut Banana Bread
Ingredients
Mix and Set Aside:
1/4

cup

milk

1

tablespoon

vinegar
Other Ingredients
3/4

cup

light brown sugar

2

cups

all purpose flour

1

teaspoon

baking powder

1/2

teaspoon

baking soda

1/2

teaspoon

salt

1/3

cup

butter

1

tablespoon

cinnamon

1

teaspoon

fresh grated nutmeg

1/4

teaspoon

cloves

1 1/2

cups

mashed bananas

1/2

cup

crushed walnuts

(or pecans)

3/4

cup

mini dark chocolate chips
Instructions
Preheat oven to 350°F.

Mix the dry ingredients, then add the bananas, butter, and 1 tbsp of the milk mix.

Mix well and then add the nuts and chocolate chips.

Place the gooey thick batter in a PAM sprayed glass pan and sprinkle with a bit more nuts and chocolate chips. Pressing gently into the batter.

Bake for 45-60 minutes (until a toothpick comes out clean.)
Notes
Bread Machine note: put (mixed) batter into container, set to bake, temperature at 300°F, and 1 hour bake time.
If you like this recipe, please share!