---
We went to the farmers market this weekend and I bought a dozen farm eggs. Only to get home and realize I still had 3 cartons to use. I then went on a search for a recipe that would use a ton of eggs! The answer to this is angel food cake! Now I have to admit that angel food cake is my favorite cake of all. Plain, flavored, confetti, you name it. I served the cake (this time) with lemon curd whip cream and a berry compote.
This recipe is for the classic angel food cake, but I have a few ideas for kicking it up that I can't wait to try:
Use of raspberry powder and freeze dried raspberries.
Add poppyseeds to make a poppyseed chiffon cake.
Use culinary lavender and lemon zest.
This recipe was found on Sally's Baking Addiction.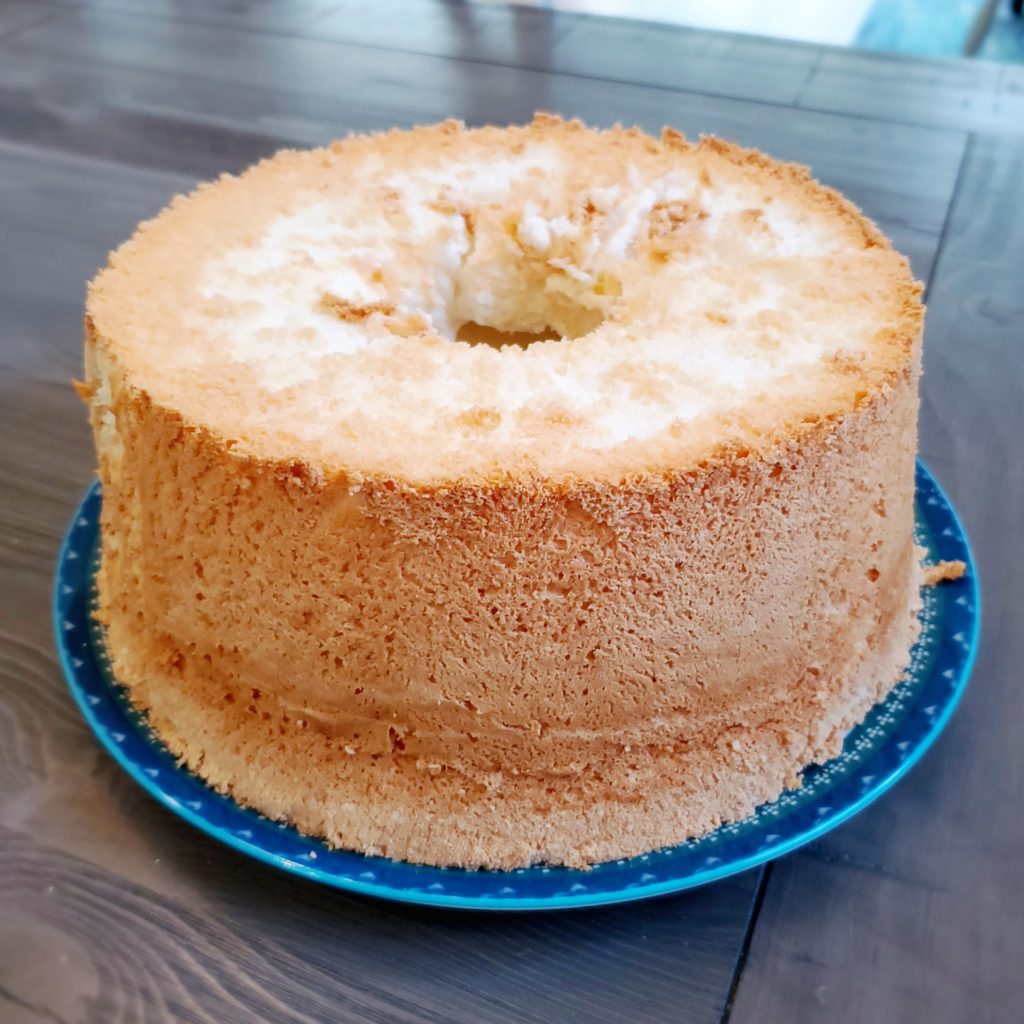 Print
Angel Food Cake
Ingredients
1 3/4

cups

berry / superfine sugar*

1 cup + 2 tablespoons

cake flour**

spoon & leveled

1/4

teaspoon

salt

12

large egg whites

at room temperature***

1 1/2

teaspoons

cream of tartar

1 1/2

teaspoons

pure vanilla extract
Instructions
Adjust the oven rack to the lower middle position and preheat oven to 325°F (163°C).

Take 1 cup of the sugar and set aside.

Add the 3/4 cup of sugar, cake flour, and salt to a food processor and pulse 5-10 times until sugar/flour/salt mixture is aerated and light.

In a large bowl using a hand mixer or a stand mixer fitted with a whisk attachment, whip egg whites and cream of tartar together on medium-low until foamy, about 1 minute.

Switch to medium-high and slowly add the 1 cup of sugar you set aside.

Whip until soft peaks form, about 5-6 minutes.

Add the vanilla extract, then beat just until incorporated.

In 3 additions, slowly sift the flour mixture into the egg white mixture using a fine mesh strainer, gently folding with a rubber spatula after each addition. It's important not to add the flour mixture all at once! Adding it all at once will cause the whites to deflate.

Pour and spread batter into an UNGREASED 9 or 10 inch tube pan. Shimmy the pan on the counter to smooth down the surface.

Bake the cake until a toothpick inserted comes out clean, about 40-45 minutes. Rotating the pan halfway through baking. Remove from the oven, then cool the cake completely upside-down, about 3 hours. ****

Once cooled, run a thin knife around the edges and gently tap the pan on the counter until the cake releases.
Notes
* If you don't have superfine sugar, use granulated sugar. Put the granulated sugar in a food processor and whiz until it has become fine and powdery.
** If you don't have cake flour, take 1 cup of all purpose flour, remove 2 tablespoons, and add 2 tablespoons of corn starch. Sift TWICE. For this recipe, I doubled it to get the 1 cup plus 2 tablespoons.
*** I went with Sally's Baking Addiction recommendation of using real egg whites instead of egg white substitutes, previously frozen egg whites, or egg whites from a carton. Separate the eggs when they're cold, then bring the egg whites to room temperature. She claims that fresh room temperature egg whites whip into the fluffiest volume, and I have to agree!
**** I like to cool my cakes, upside down, by setting the "tube" portion on a canning jar. Some angel food cake pans come with feet which would be handy. I also use a tube pan with a removeable bottom. Makes it easier to get the cake out. 
If you like this recipe, please share!