---
Everyone I've made these for, loves black forest cupcakes. I have made these for my dentist, family, coworkers, and for my sisters' catered bbq. A hit every time. The thing that makes these cupcakes is the booze. Kirsch is THE ingredient to have in a black forest cake and is definitely a must to get that perfect flavour. Paired with the fluffy white pudding icing, they have a perfect balance of sweetness from the chocolate, a wee tart bite from the cherries, an extra kick of cherry from the Kirsch and the smooth and light icing.
I also cheated (shhh, no comments from the peanut gallery) and used a boxed mix. I know. I'm sorry. But when you're pushed for time, sometimes its the quickest way. And frankly some of the dark chocolate mixes out there are freakin' awesome.
BLACK FOREST CUPCAKES
Prepare cupcakes as per the box instructions (use a nice dark mix, say german chocolate cake or devils), replacing some of the liquid with kirsch. For a recipe that calls for 1 1/4 cups water, I'd make 1/2 cup of that Kirsch. Prepare the filling by using a large can of cherry pie filling, mixed with a generous splash of Kirsch. You don't want the pie filling too liquid'y but you want some Kirsch in there for flavouring, so remove some of the cherry liquid.
Once the cupcakes are cooled, you'll want to prepare them for filling:
Step 1. Divot a cone-shaped hole with a paring knife, in the cupcake
Step 2. Fill the divot with cherry pie filling, usually 3-4 cherries per cupcake
Step 3. Trim the divot top so its just a flat piece and place on top of filling
Step 4. Ice and sprinkle chocolate shavings on top (I like to use Fluffy Pudding Icing that also has a splash of Kirsch in it)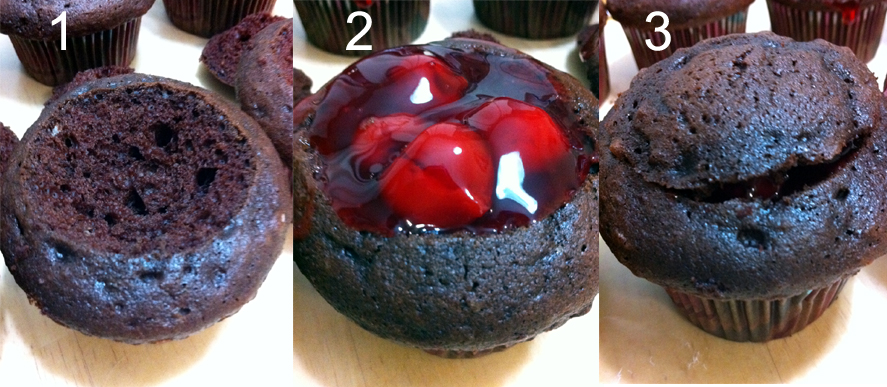 If you like this recipe, please share!