---
Getting on board with more baking at home and the fact that the Hubby wanted some bread with a bit of fibre to it, I did up a 50% whole wheat / 50% white bread. When I make bread, if it's not the extended baking session of sourdough bread, I like to do the dough up in the bread machine and then let it rise for max 30 minutes, then pop into the oven.
This was a very nice recipe. Fluffy and not dense, has a good ration of whole wheat flavor without becoming "brown" bread. If that makes sense?
I love the smell of the dough when I pull it from the machine! This recipe makes a very large loaf. If you'd like, you could easily split the dough in half and make two average-sized loaves from it.
I found the original recipe on Food.com.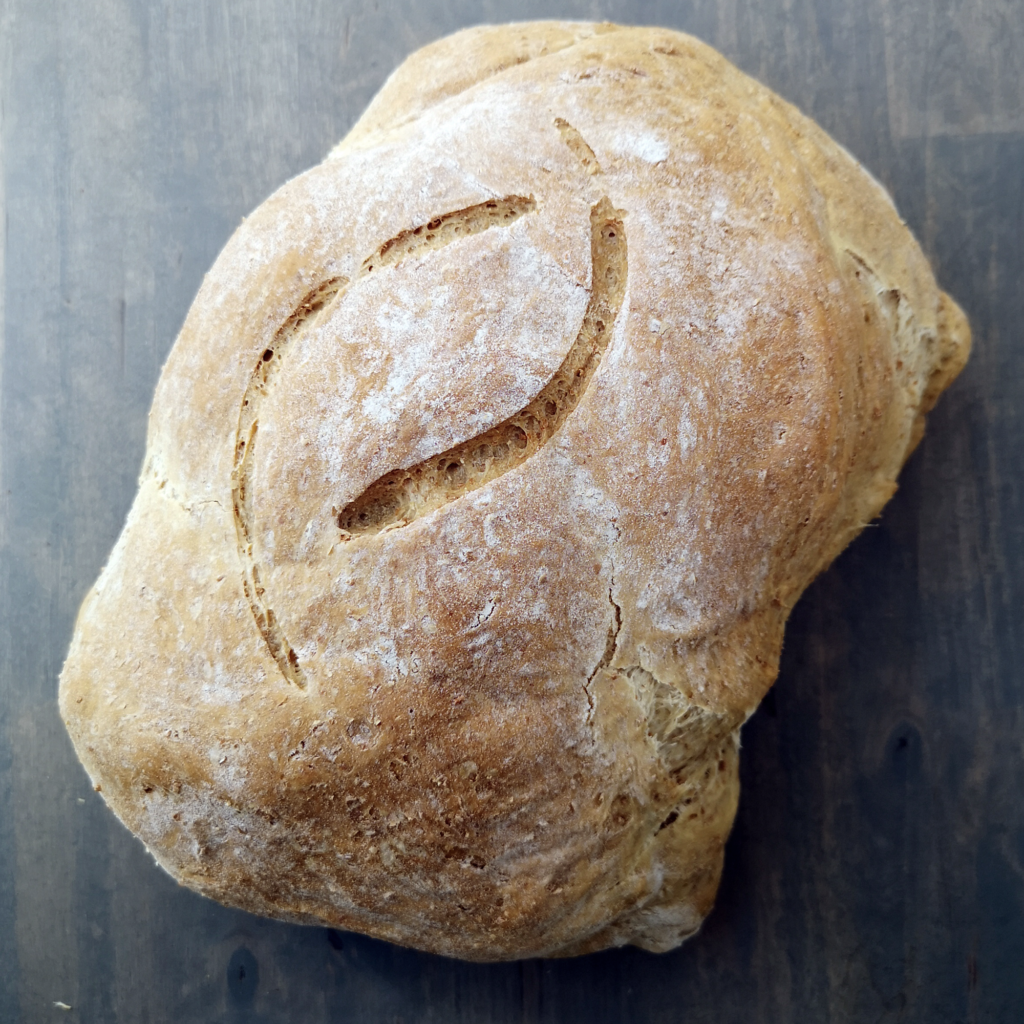 Print
50% Whole Wheat / 50% White Bread
Ingredients
1 1/2

cups

cups water

2 1/2

tablespoons

margarine

2

tablespoons

molasses

or honey

2

cups

whole wheat flour

2

cups

all-purpose flour or 2 cups bread flour

1 1/2

teaspoons

salt

1 1/2

teaspoons

quick rise yeast
Instructions
Put the ingredients into the machine in the order they are listed. Set the machine setting to dough.

Line a large bowl with a linen cloth and sprinkle the bowl area generously with rice flour.

Clean a space on the counter and sprinkle with water, smearing it around.

Remove the dough from the machine, and shaping with your hands gently pull into a rectangle.

Fold into thirds (like a piece of paper - outside ends towards the middle).

Take the rectangle and fold into thirds again.

Place the dough, seam side down into the bowl and dust with rice flour.

Cover with the edges of the towel and set somewhere warm while the stove heats.

Take a dutch oven and line with parchment paper and place in the oven. Heat the oven to 350F.

Remove the pot from the oven. Score the top of the bread (to allow it to rise more) and place on the parchment paper. Careful of the hot edges!

Bake for 30 to 35 minutes until browned to desired doneness.

Remove immediately from the pot and place on a rack to cool completely, before cutting.
If you like this recipe, please share!
50% WHOLE WHEAT / 50% WHITE BREAD